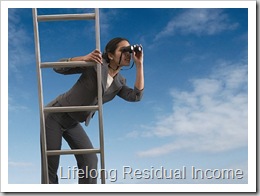 In our last post we chatted about the difference between residual income and overrides… or otherwise known as commissions.
This was a very important point to be clarified as many network marketers definition of residual income has been misconstrued.
Now that we are clear on this, we need to dig a little deeper on this topic… so let's get to it!
Lifelong or Short-Term Residual Income… What Do You Prefer?
This might sound like a ridiculously obvious question, but when it comes to network marketing it's important to be clear on which one you want.  If you're like the majority of network marketers, you got into this industry for "lifelong residual income"… to do something once and get paid for it month after month, year after year, decade after decade.
There are some very specific components that need to be in place to create lifelong residual income.  Not having these fundamentals within a company is why network marketers fail in the masses!
Watch this video training as we share these points with you…
Video Goes Here
Are You Starting To See The Difference?
When you really get this, you're on the road to creating lifelong residual income for yourself… the main reason why you got started in this industry.  Do you see the power behind creating something that can last a lifetime?
Most people in the industry are creating something that will last a lunchtime.  Share your thoughts on this topic below by leaving a comment.  We'd love to hear what's going through your head after reading/watching this blog post.
Give this post a twirl through your social media sites… your Facebook and Twitter buddies will thank you, as they got into this industry for the same reason you did.  Thank you in advance!
If you're looking for an opportunity that creates lifelong residual income, then head over and see how you can partner with us.  Many are BLOWN AWAY when they see what we are doing, since 95% of network marketers are failing and we're creating true residual income.
If you haven't watched the video training on the "80/20 Rule", go watch it now.
See you on the next blog post…
If you're interested in more REAL Network Marketing knowledge:
Yours In Success,
Written by Jason Fisher and Eric Goldstein of TimeandFreedom.com.