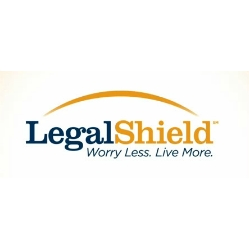 Legal Shield was started in 1972, so it has been around for more than 40 years. Legal Shield offers affordable legal protection services for its members. Legal Shield was one of the first companies in the United States to provide prepaid legal plans to consumers. A Legal Shield monthly membership fee of about $17/month gives you access to a local quality law firm.
You can call about any legal issue you want. You can get legal advice on: accidents, adoption, bankruptcy, child custody, consumer protection issues, divorce, foreclosure, healthcare power of attorney, moving violations, property disputes, rental issues, and wills. You just contact your Provider Law Firm directly and speak with a qualified and experienced attorney about any legal issue.  Legal Shield markets their services using a multi-level marketing structure.
How Legal Shield Works…
When you become a Legal Shield member you will receive a membership packet by mail that explains the membership and gives you a toll-free phone number for your Provider Law Firm. When a legal question or issue arises you simply contact the provider Law firm using a toll-free number that was provided in your membership packet. The person answering your call will ask for your name and membership number. This is located on your membership card you received in your membership packet with your Prepaid LegalShield Services.
You will be asked to briefly explain what type of legal concern you have. By providing these details the provider Law firm will be able to select a lawyer for you who knows the most about your legal question. You would then be asked for a contact number and inappropriate time when you can be reached. An experienced lawyer will return your call within eight business hours and provide individual legal advice about your issue.
Legal Shield Serves More Than 1.4 Million Members
Legal Shield serves more than 1.4 million members in the United States and Canada. As a result they can negotiate legal services with law firms throughout the United States and Canada at a fraction of what they traditionally would cost.
Legal Shield also offers identity theft protection. Identity theft affects millions of Americans each year. Legal Shield has two identity theft plans to help protect and restore your identity both plans provide comprehensive identity restoration from Kroll Advisory Solutions. So if your identity is stolen, you'll have professional help in getting your identity restored to what it was before the fraud occurred.
Legal Shield's identity theft plans include you and your spouse. For an additional one dollar per month you can add up to 8 children under the age of 18. The plans include single bureau credit report and score, unlimited consultation on identity theft matters, triple bureau credit monitoring and activity alert, sex offender search, lost wallet assistance, and safeguard for minors. Plans may vary depending on your particular state so you may need to contact LegalShield Customer Service to get the necessary details.
The Challenge With Legal Shield's Service
Since Legal Shield markets it's services using a multi-level marketing structure, majority of the people that are opening memberships are doing so to be eligible to build a business with Legal Shield.  With this being the case, 50% of the memberships that are opened with the company, are closed within the first year.  We explain exactly why this happens in our full Legal Shield Review video.
If You Want To Learn More:
Register for our upcoming webinar that exposes the MLM industry lies of residual income, and the solution to earning true long term residual income.

Subscribe to receive our new blog posts
We hope you found value in this blog post about the Legal Shield services.
This post was written by our business associate Jason Fisher of TimeandFreedom.com